HOW TO CHOOSE YOUR FINIAL
Once you decide where you want it to be displayed, choosing your finial is as easy as 1-2-3!
Follow these three simple steps
CHOOSE A STYLE
CHOOSE A SIZE
CHOOSE A FINISH AND MATERIAL
---
1. CHOOSE A STYLE
This is subjective to your own specific tastes. There is simply no right or wrong here. Think about where you will display your finial and what style best complements that area. Currently we offer four different finial lines. Which one do you like best?
2. CHOOSE A SIZE
Once you know your style, it is time to decide how large or small you need your finial to be. Generally, the size of finial should be relative to the size of the structure or place the finial is going to be displayed: Think "scale" here. The larger the structure or the more prominent you wish the finial to be, the larger the finial should be. All finials are available in Small, Medium, & Large sizes. Go to individual finial pages for more details.
The images below illustrate the difference between a Small, Medium and Large finial. All finials are shown on the same cupola in order to give you a fair comparison of scale.
Shown with DL Small
Copper Florentine
#102CS

Shown with DL Medium
Copper Florentine
#102CM

Shown with DL Large
Copper Venetian
#101CL
In this particular case, we went with the DL Medium Copper Florentine Finial item #102CM (as shown in picture below). Due to size of the two car garage and cupola, as well as the distance away from the eye, the Small finial was just not big enough. Although the Large finial would have also worked, we felt the Medium finial did the job. Keep in mind: a finial will look smaller the further away from you it gets.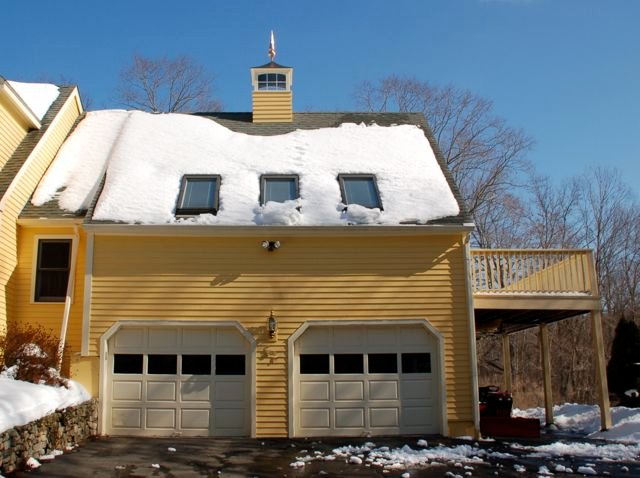 3. CHOOSE A FINISH AND MATERIAL
This is like choosing the color of a car, often the final yet deciding factor in your purchase. Again this is a subjective decision. Black or white? Silver or gold? Polished or brushed? It's your choice based on your personal preference and distinctive tastes. Keep in mind where you will be displaying your finial so that you choose a finish that best complements that area. Currently, we offer copper and steel finials in many different finishes and styles. You can view the different styles and finishes on each individual finial line page by using the links at the top of this page.
---
Our copper finials are hand-formed from pure, solid copper sheet, they are not copper plated. They are the classic option for the discerning person. They will age gracefully and obtain a green patina over time. Steel finials offer an economical alternative to copper finials. Steel finials also offer additional color and finish options.
Each Finial has it's own innate beauty. With so many options available, the one you choose will be specific to you, reflecting your personal style and taste. To learn more about us, or inquire about our products, you can contact us by phone: 1-575-344-9393.