Good Directions Finials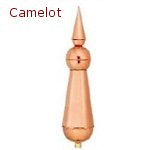 A Good Directions architectural copper roof finial will add a graceful finishing touch to any rooftop, turret or cupola, and keep things looking up as they bring the eye skyward and make a dramatic statement. These high quality, solid copper finials can also be used in the yard or garden as a topiary or decorative sculpture. Expert craftsmanship using the finest materials and design expertise ensure durability and years of enjoyment.
For estate class homes, Good Directions offers the hallmark of architectural accents in a roof finial known as the Smithsonian collection. Good Directions is the only finial provider in the country selected by the esteemed Smithsonian Institution in Washington, D.C. to design and sell the Smithsonian™ Collection line of finials and each one has the distinctive and authentic Smithsonian logo plaque applied to it.