Totally Custom Weathervanes
Totally Custom Weathervanes
CUSTOM WEATHERVANES MADE FOR YOUR BUSINESS, CIVIC STRUCTURE, BARN, GARAGE, SHED, HANGER, BOAT HOUSE OR HOME
Would you like a custom weathervane for your business that needs a unique custom building ornament to promote its brand? Maybe you are an individual with a hobby or a passion for something in your life. No matter who you are or what you are interested in, you might find it very exciting to have a totally unique and custom weathervane designed and delivered just for your special needs.
---
Custom Weathervane In Coppertone Finish Powder Coated 14 Gauge Steel Silhouette
Our smaller hand designed, laser cut, custom all steel "silhouette" custom weathervanes are also crafted out of top quality 14-gauge mild US steel and is constructed and completely assembled in the USA. These smaller custom made weathervanes have a baked-on powder coating that has a coppertone appearance that will actually twinkle and sparkle in the Sunshine as it turns to indicate the wind. The finish is all season weather and UV light resistant and is maintenance free. This high quality vane will give many years of trouble free use.
These custom made silhouette weathervanes are available in a 21" size. That is a measurement from the tip of the directional arrow to the end of the tail of the arrow.
---
Custom Weatheranes Made in 14 Gauge Steel With or Without Colorful All Season Two Sided Laminate.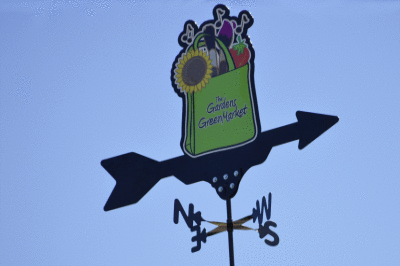 A truly artistic expression and totally functional custom weathervane constructed and completely assembled in the USA of in a 14-gauge US steel.
This vane is available in three sizes and can be constructed with or without a colorful laminated cover.
The lamination technique will sandwich the steel in a bright, colorful, all season durable laminate (as shown to the right.) With this custom weathervane construction technique, we can give your custom weathervane the exact look, feeling and with the laminate option, a colorful design that will perfectly suit your business or personal project needs.
These silhouette vanes are available in a never ending rainbow of colors. We can duplicate or create almost any logo, artistic design or illustration that you desire to have placed on your vane. Sizes available include arrow tip to the tail lengths of 36", 48" and a full 60".
---
Unlike lighter weight weathervanes that can be damaged in high winds, all our weathervanes are constructed with a thicker metal base that is sturdy enough to withstand even gale force winds.
But the favorite feature for most is that the weathervane will be an expression of your business, brand, or passion, and that expression will remain atop it's fixture for years and years providing a welcomed and visual reminder of the things that are important to you, your clients, or family and friends.
GETTING STARTED IS EASY AS 1, 2, 3
STEP 1:
Send an email to: NICKF@WEATHERVANE.COM and include a brief but concise description of your custom weathervane idea. If at all possible, attach a picture or illustration of what you would like your custom weathervane to look like. You can also contact us by telephone.
FOR A PERSONALIZED AND COMPLIMENTARY INITIAL CONSULTATION
FEEL FREE TO CALL US AT 574-344-9393
9AM TO 9PM SEVEN DAYS A WEEK!
STEP 2:
Our weathervane design artists and craftsmen will quickly call you back to answer any questions you may have. There is typically a small non-refundable custom design deposit required to actually begin your project. The deposit is to cover the cost of having your custom weathervane design professionally placed into the CAD design system. Once prepared, the professional CAD design will then be promptly sent to you via email for your review and/or any final adjustments and your final approval. Included will be your weathervane total cost(less your deposit), shipping, and estimated delivery date. All before you have actually decided on the final investment. Yes! Investment because, a weathervane also adds value to your business building, commercial or community structure or home.
STEP 3:
Once you have finalized your design (and color option if desired) you can order your custom weathervane by either calling us (574-344-9393) or via email with a simple 'reply'. Your vane will be custom manufactured for you and then shipped via common carrier or motor freigh depending on it's final size. We will always provide you with time estimates and delivery tracking information when you vane is actually shipped. Typical manufacturing times is only days or a few weeks once your design is finalized and approved.
HOW MUCH WILL IT COST?
The typical cost for a custom crafted, coppertone finish, made in the USA, professionally designed and delivered 21" vane starts at $599.00 and includes the custom vane, directional arrow, ball bearing rotating wind cups and your choice of mount: deck, roof, garden, post, 3 sided or 4 sided. A custom, two sided, laminated vane with directionals, arrow, and mount starts at $1299.
Shipping is a small additional charge for UPS Ground but we also offer an expedited delivery service if for any reason you desire your vane be delivered more quickly.
Need a larger vane? We have those too. 36: arrow, 48" arrow 60" arrow and 72"arrow vanes are available. Please inquire using the contact information below.
HERE ARE A FEW IDEAS FOR CUSTOM VANES FROM OUR STANDARD CATALOG
---