Large Weathervanes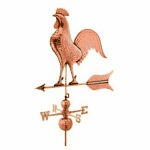 BELOW ARE THE GOOD DIRECTIONS LARGE WEATHERVANES. Larger buildings and structures look better when enhanced by an appropriately sized Good Directions estate size weathervane. To answer that need, we have created exceptionally well crafted weathervanes in a variety of styles to grace above-average sized homes, buildings, and cupolas. To help them function at their best, Weathervanes include extra-large brass directionals, oversized copper spacer balls, and a rust-free stainless steel and brass assembly rod.
NOTES:

All large vanes by Good Directions come with a matched set of North, South, East, and West directionals.

The Good Directions large size vanes DO NOT include a roof mount. Please select your roof mount from the

Good Directions Roof Mount category

. For roof mounting a large vane, we suggest the 401LG.
---
BROWSE GOOD DIRECTIONS LARGE WEATHERVANES BELOW
---